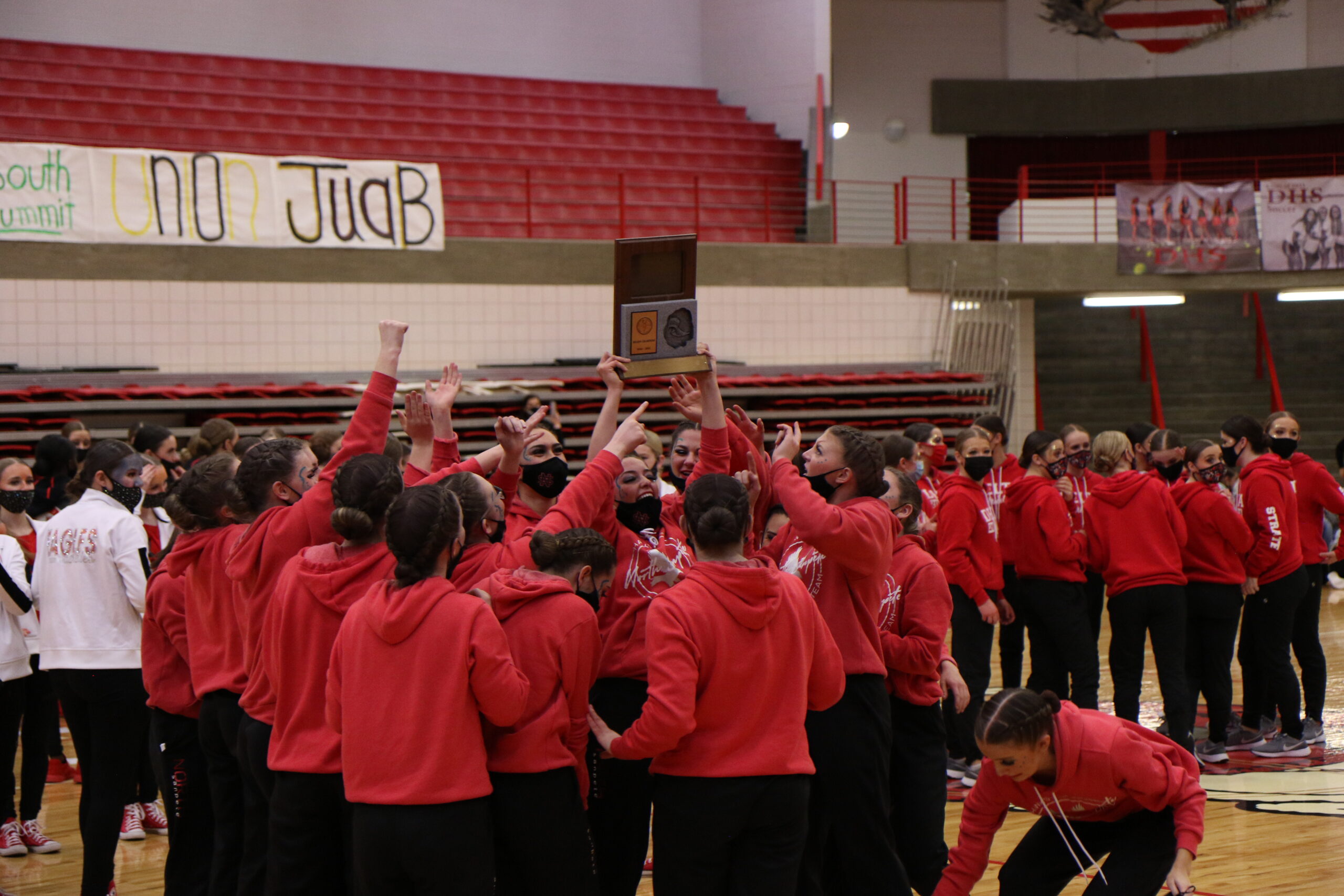 Despite facing many challenges this season, the NS Drill team became back-to-back region champions. The team placed first in both military and dance, and third in show at the competition in Delta.
"After each routine was done, I knew that we had done our personal best," said junior and drill team member Jordan Hilton. "We of course wanted to win, but even if we hadn't won, we had given it our all and hadn't held back and that is what's most important to us. When it was announced that Juab placed second overall, everyone's eyes lit up and we all smiled, cried, and cheered because we need that we had just won."
All of this success is not without hard work and dedication, as the team has faced many drawbacks throughout the season. Naturally, many problems have come about as a result of COVID-19.
Additionally, both coaches have been pregnant during the season, leading to a few setbacks. The team has also faced struggles with some last-minute changes to some of the aspects of the routine.
"This year has definitely been super crazy because of everything and I'd say it's been pretty stressful at times," said senior and Drill Mistress Shalyce Cook. "COVID has a lot of the stress because it's affected our practices and our competitions, but as a team, we just have to deal with it."
With no control over what happens, it becomes important for them to adapt and still try their best every single day, no matter what.
For example, Cook was once quarantined during a competition and was prevented from performing. As a solution to the problem, a girl who wasn't previously in the routine had to learn the dance within a week to fill Cook's spot.
"We have no control over what happens because of COVID, and sometimes it can be really frustrating," Hilton said. "It was tough not to have Shalyce for that competition but there was nothing we could do about it. Instead, we just had to adjust and keep moving forward."
Not only was it hard not knowing when girls might get quarantined, but having both coaches be pregnant added extra stress.
The head coach, Kiersten Wheeler, ended up having her baby during Christmas break. Whereas, assistant coach Brittany Dyches hasn't had her baby yet, but she ended up in the hospital after testing positive for COVID-19 around the very same time as Wheeler.
Now both coaches have returned home and are recovered. However, due to these drawbacks, the team missed one week of practice, which was hard with competition season approaching quickly. In spite of it all, Wheeler decides to look at the whole experience as a positive.
"In some sense, we actually got kinda lucky," said Wheeler. "We knew at the beginning of the season that it was a real possibility that we could have our babies in the middle of the competition season. If it would have happened at a different time we might not have had practice for a couple of weeks, but instead, Christmas break saved us."
Nevertheless, the team had to come back ready to make up for the lost time. The week of practice that they missed was meant to be time for them to polish and master their props for their show routine.
"Our show routine can sometimes be difficult because of the props we have to use," said senior Brooklyn Burgess. "They are these big wooden stands that look like crystal balls. They're really heavy and awkward to carry. It's sometimes hard for the girls to get comfortable with them because they're just so big."
At their first competition back from Christmas break, the NS Drill team received several penalties due to issues with some of the props that caused them not to place as high in the show category.
In an effort to improve, the coaches decided to change the crystal ball props to make them much smaller and lighter.
"Just like any other sport, we had an idea in our head," said Wheeler, "but once we put it on the floor we realized that it wasn't going to work. So our job as coaches was to recognize the problem and then take action to change it. We just had to adapt."
Regardless of the challenges they've faced this season, NS Drill looks forward to State. This year the state competition will be held on the 9th and 10th of February at Utah Valley University.
"We're really happy about winning region, but now we don't want it to be our peak," Burgess said. "Our goal is to continue to work hard so we can do our best at state. For a long time, we weren't even sure if we were gonna get a state competition, but now that we do have it we're going to make the very most of it."