COVID-19 Information & Resources
-IMPORTANT ANNOUNCEMENT-
The following post going viral on social media is a PRANK, it is not the true words and advisory of Utah gov. Herbert. His response to the April fool's joke is as quoted, 'Now is not the time for irresponsible jokes.' Please help stop the thread of fear accompanying this post by not sharing it and informing others of the truth. Thank You!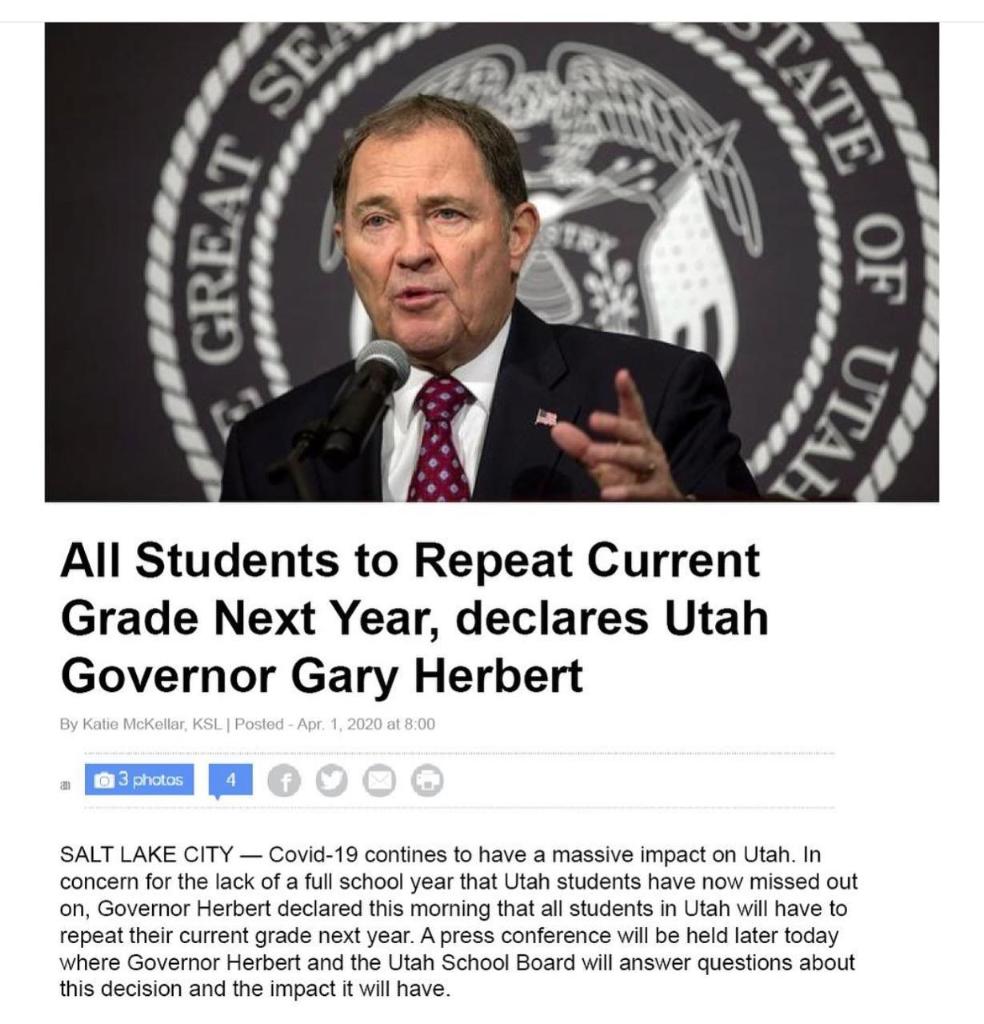 ---
We invite you to look at the 'COVID-19 Updates' page provided on the left to learn more about what is going on!
---
'SCHOOL DISMISSAL MARCH 16 – MAY 1
NSSD COVID-19 Pandemic Response Plan
UPDATED 3/23/2020
Governor / Health Department directions:

Infected individuals and their affected family members will be on home quarantine and checked twice daily by Health Department personnel.
Symptomatic students / employees will NOT be allowed at school / work.
School dismissal / closure will be directed by state and county health department guidelines.
All Utah public schools will be dismissed beginning Monday 3/16/2020 through 05/01/2020, then re-evaluation will determine future education services.

Spring Break is 3/23-3/27/2020, so no school services will be provided during this week.
Dismissal means school will not be held and students will not attend class.
Monday & Tuesday teachers will be preparing for online instruction, so no school will be held either day. Online instruction will begin on Wednesday.
No busing will be provided after 3/16/2020 until further notice.
Students may need to pick-up an iPad / learning material at their school Wednesday
Grab & Go (breakfast / lunch) will be scheduled at each school (see NSSD website)



Cleaning Plan for NSSD Schools

We have increased disinfectant cleaning of student contact surfaces (tables, desks, chairs, etc.)
If case(s) of COVID19 are suspected at school(s), extensive cleaning will be done prior to opening.



During the dismissal, online instruction (will start Wednesday 3/18/2020) & may include:

Online use of Canvas, ALEKS, Nearpod, Google Drive, IXL, FlipGrid, Odysseyware, Lexia, i-Ready, Wonders, GoMath, EPIC, NEWS ELA, WebEx, Sumdog, etc.
Students may access lessons via home internet, park (in car) near a local school, HawkSpot(s), link to cellular phone hotspot (*parent will be charged for personal data), share internet with neighbors, etc.
Each district school will post a learning plan, on their school website by Monday 3/16/2020, for students during dismissal. Students have also been prepared by their teachers for the following:

Secondary schools will utilize Canvas or other delivery systems listed above through student assigned 1:1 devices. Teachers will submit a lesson or activity every regularly scheduled class period. Students will receive instruction online, and complete / submit assignments.
Upper Elementary students (4-6) will utilize Google Classroom (or another app listed above). Students may be issued an iPad (1 per family) to take home if needed. Teacher will submit lessons or activities daily. Students will access instruction online and complete / submit assignments as needed.
Lower Elementary students (PreK-3) may utilize online resources listed above. Students may take home an iPad (1 per family) if needed. Teachers will record lessons and post daily activities for students.



School Nutrition – Information provided by Utah State Board of Education

USDA foods (school nutrition) will be provided starting Tuesday.
Grab & Go (breakfast / lunch) will be provided at the elementary nearest your home. Buses will deliver meals to Chester, Wales, Milburn, Indianola, etc.
See the COVID-19 Resources Tab on our NSSD website or your local school website for meal pick-up schedule.
Students will NOT be able to eat meals on campus.



Students and employees that are sick need to stay home, not share germs

No students or employees will be penalized for absences during a pandemic; however, credit will only be given for work completed.
Employees may use accumulated paid sick leave as needed when they are unable to work. Extended use of sick leave, (paid or unpaid) may require a doctor note (see policy IV-33).
Salaried employees, working from home during a school dismissal will be paid as usual.
Hourly employees (that are sick, over 60 or with high risk health conditions) will receive paid sick leave for absences 3/16 to 3/20/2020. During dismissal, schools will schedule hourly employees as needed. Due to this unusual situation, hourly employees will be paid at their regular rate (3/16 to 3/20/2020) as long as they work from home, come in when requested or need sick leave. '
-North Sanpete School District
---
Students will begin online instruction on March 18th and will continue until May 1st. Please refer to the high school and district websites for more information.
REMEMBER TO LOOK UP, REACH OUT, RISE TOGETHER!