Wrestling looks to improve with more mat time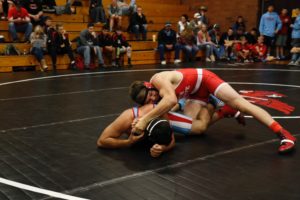 The NS Wrestling team has high hopes for success this season, although after their first few duels, the team has learned that there is definitely room for improvement.
"We started the season out pretty bad," captain Luis Rodriguez said. "It's like the coaches were telling us, we started pretty lazy. I think it was because we were scared, but overall it was a pretty rough start."
On Nov. 30, the team had their first dual against South Sevier, which they lost.
The team has still practiced hard to get better, despite the final team score in the last couple duels.
"As a team, we really haven't done the best," senior Keegan Eliason said. "Overall we just need to practice hard and gain more determination."
Head coach Bryan Strain is happy with the improvement of his team so far this season although they haven't quite found the way to defeat other schools just yet.
"We're improving, and that's the biggest key. It's one thing to start off the season and be the powerhouse, but it's another one to start out not being the powerhouse and ending up being a team that others want to be," Strain said.
The team agrees that with plenty of practice, hard work, and determination, they will be able to do great things.
"We need to come to practice every day and work hard. We need to give 110% out there on the mat," Rodriguez said.
The coaches all agree that biggest weakness of the team is experience. There are a lot of first-year wrestlers.
"I think if we were to do a team average of experience we would probably be at about two years' worth on average. Most of the team are first year wrestlers, so having mat time is huge. The more comfortable you are on the mat, the better you are going to do," Strain said.
The coaches believe that when the team spends time on the mat, they will be able to get comfortable with some of the different positions they will face.
"We've had a tough tournament down in Millard. The boys need to have more mat time to get more familiar with the sport," assistant coach Nash Brown said. "They need to know how to deal with the moves that are given to them in their matches."
Although the team has had a rough start, the coaches still have high hopes for success in the future duels and tournaments, and hopefully a chance at state.
"I think this team is really going to grow and get better over the season and qualify for state. I don't think that what has happened so far is really going to affect where our state placement is going to be," Strain said.
The team is dedicated and willing to work when asked to do anything.
"They are a really close team that encourage each other and work hard day in and day out," Brown said
All of the wrestlers can agree that even through wrestling can be hard, it is worth it, and they really have come to love it.
"Wrestling is the best sport ever made," Eliason said.
Many wrestlers agree with Eliason about wrestling being the best because it forces them to work hard to become better.
"Wrestling is in my blood. It's something I always have a desire to do. It's a part of me. I love wrestling. I love what it does for me, I love what it does for others, it's just one of those sports that once it gets in your blood, it's something you have to do. It's almost like an addiction sometimes," Strain said.
Most of the team can all agree that they are looking forward to what's coming up in the future and learning what they need to do to become better.
"We need to become mentally tough and prepare ourselves for life lessons and when times get hard, you don't back down, you keep pushing forward," Brown said. "Watch out for North Sanpete, we're coming."