'The Last Jedi' exceeds all expectations, thrills fans
"Star Wars: The Last Jedi" is the latest addition to the Star Wars saga, picking up where 2015's "The Force Awakens" left off. Written and directed by Rian Johnson, the movie stars Mark Hamill, Daisy Ridley, and Adam Driver.
From the opening crawl to the end credits, "The Last Jedi" is an action, joy, and humor-filled romp.
Continuing the storyline of First Order vs. Resistance, the movie also explores more complicated ideas of dark side and light side—and the characters caught between the two factions. Although "The Last Jedi" is no stranger to magnificent action sequences, the movie really shines in the moments of depth delivered by the lead actors.
Ridley and Driver, both relative unknowns before being cast in "The Force Awakens," shine in their respective roles. Driver's character of Kylo Ren—a far more multifaceted villain than the Star Wars universe is used to—pushes they story in especially interesting directions.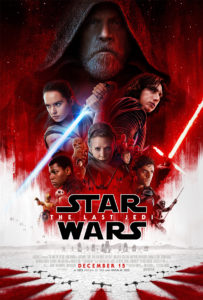 This character-driven approach is carried out in a way that is bound to bring an emotional response from many fans, including myself. Rian Johnson unpacks a story full of twists and turns that will leave something for even the most speculative viewer to be startled by. These surprises, combined with a fantastic score from the great John Williams, kept me engaged the entire time.
While "The Force Awakens" faced criticism from many for following a formulaic plot that felt too similar to previous Star Wars films—"The Last Jedi" seems to fall on the opposite side of the spectrum. Rian Johnson and company, rather than stick to the tried and true, give their audience a movie they may not have asked for, but one that is bound to please most of them regardless.
Not everything about "The Last Jedi" is perfect. The second act contains a side-plot that drags a little at times, and some details may fall apart under closer inspection. As critical as I try to be, however, I cannot help but feel that this newest Star Wars movie is more than the the sum of its parts.
"The Last Jedi" is—appropriately for this time of year—like an advent calendar full of sweet surprises. By providing the viewer with treats throughout, it creates a feeling of anticipation and joy. Even if you find a raisin or two in a couple of the metaphorical chocolates—once you reach the finale you've been waiting for, you forget all about them.
Overall, "The Last Jedi" is enjoyable through and through. An interesting but welcome addition to the Star Wars canon, it demands second and third viewings.