Hawks off to exceptional start to season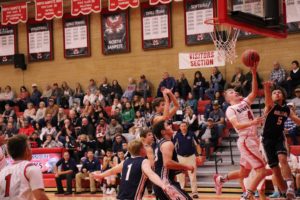 The NS boys basketball team stepped out onto the courts at the Bear River Winter Classics tournament. They were up against the Hunter High Wolverines.
Four weeks into the season and the team already has an impressive region record of 7-1, compared to last years 1-6. Even with this backing them up, they felt intimidated playing against a 6A school. Throughout every game, the team has a constant, coach Chris Hoopes.
"[Throughout the games] Hoopes is always encouraging us, yelling only when he needs to, to fire us up, telling us the right plays and what to do on defense, and then right behind him we have Bill and Gage backing him up," said senior guard Josh Jackson.
As fourth-quarter rolled around it was still anyone's game, with NS up by two. Both teams were filled with adrenaline as the clock begins to countdown.
"It was right down to the wire, and we all had to pull together, our team was making big plays everywhere to make sure that we got the win," said Jackson.
As the buzzer sounded the scoreboard revealed NS ahead by 3 overall at 57-54.
It's the tough games like these when the team knows that the work they put in pays off. Coach Hoopes is one of the many men enforcing the stamina and diligence in this team.
One challenge Hoopes sees is the team is not as tall as other teams, but Hoopes is aware of this, and to counteract he pushed the team; they do drills and run while keeping in shape.
"[In my junior year] we battled through a hard pre-season only winning two games, and [Hoopes] helped us figure out what we were going to do and got us to our big region wins," senior Spencer Steadman said.
Hoopes displays his experience with basketball in the way he coaches. Along with coaching Hoopes followed in his father's footsteps and become a teacher.
"I grew up around education so it became really important to me," said Hoopes.
He was able to combine his two dreams, teaching and basketball, into one job. Although Hoopes loves that basketball is involved, he would still love teaching without it.
"He cares for us not just on the court but also off the court. If we ever needed to go to him for anything we could. He is a guy that I really look up to and he has really helped me as a basketball player and a person," Steadman said.