Tennis places second in region, competes in state
The season came to an end for the tennis team last weekend. The state tournament ended early, with all the singles players losing in the first round, and both doubles team losing in the second round.
Though they lost out, the team was set to do well from their good showing at the region tournament. Both doubles teams were able to get the first place seed; which placed them against the fourth ranked seed of another region in 3A. While the singles had a little rougher seeding going into the state tournament, the team was in a favorable position.
"We have a real chance to do well at state, especially the doubles since they are going ranked as number 1," said Benjamin Palmer.
Although Palmer didn't play well, the first doubles team played well against the opponent, Toole, in the first round beating them 6-3, 6-2.
"We had a lot of energy out on the court, and played really well," said first doubles player Kendall Grasteit.
Unfortunately, the team then lost their second round to Snow Canyon 1-6, 0-6.
The second doubles team, Brendan Blackham and Tanner Morley, beat Juan Diego first round 6-4, 3-6, 6-3. They then lost to Stansbury 4-6, 4-6.
Palmer, the first singles player, took second at region, and had to challenge the first singles player from Union on Friday morning. Palmer lost 1-6, 1-6 in the first round against Union.
"I played horrible, it was a rough match for me," Palmer said. "if I could go back I would come out with more energy, I played the game very lethargically and I would change that."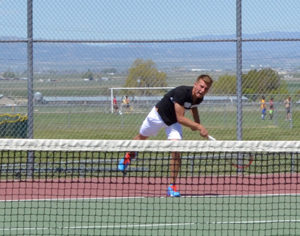 The other singles players also lost in the first round; Ethan Ostraff lost to Juan Diego with a score of 1-6, 4-6, and Russell Madsen against Desert Hills with a score of 6-2, 6-0. Ostraff was seeded at second, and Madsen was seeded at fourth going into state.
"I needed to focus on the drills the coaches run and finding my weak points and improving  on them before state, and perform my best during state," Ostraff said.
Ostraff was able to use this technique in his second set and it paid off for him, even though he didn't win, he was happy with how he played.
"I played really well, and I was able to improve during the second set and I started to move my opponent around more," Ostraff said.