Newest Disney live action remake creates debate
Disney's live action remake of the 1991 classic "Beauty and the Beast" was released last Friday in theaters worldwide. Though many fans were excited to see a film they love reimagined, there has been a controversy surrounding the film.
In a recent interview with UK's Attitude Magazine, director Bill Condon said that the character LeFou (played by Josh Gad) would be gay in this new version of the movie.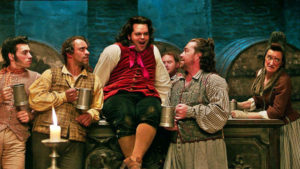 "LeFou is somebody who on one day wants to be Gaston and on another day wants to kiss Gaston," Condon said. "He's confused about what he wants. It's somebody who's just realizing that he has these feelings."
These comments divided the internet into two main camps. Many were upset and believed that Disney was trying to push an unnecessary agenda. Others believe that it was a much needed decision to help add diversity to the movie.
This decision to have what Condon called a "nice, exclusively gay moment in a Disney movie" had many up in arms over what it could be. Many parents, mostly coming from the right wing, were very concerned on what this could mean.
People have always accused Hollywood of pushing their own agendas in films, but it seems to have been more prominent in recent years. Those boycotting the film are worried about how Disney could be trying to influence their children through this movie.
Those on the other side of things (including some who are involved with the movie) believe the whole situation has been blown way out of proportion.
Condon claims that there was no agenda being pushed, he was simply trying to make the movie more diverse, without making too big of a change from the source material.
Lefou is not the only way Condon and the rest of the crew plan to make Beauty and the Beast cast more varied.
"[Diversity] was so important," Condon said. "We have interracial couples — this is a celebration of everybody's individuality, and that's what's exciting about it."
Despite this controversy, the film is still expected to be a hit at the box office, with many big name actors headlining. Beauty and the Beast is the fifth installment in Disney's upcoming line of live action remakes of their animated classics.