Golf starts season with young team
With only three returning girls, this year's girls' golf team faces a rough start. Bailee Lucas, a senior, Billy Christensen, a junior and Brooklyn Larson, also a junior, are the only three returning this year to play golf.
Despite having a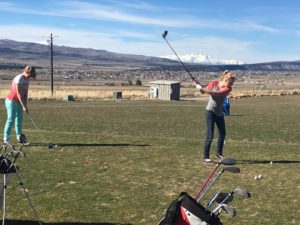 young team, Lucas believes that through hard work the team could qualify for state. Coach Cheryl Hadley also has the same goal in mind, along with the team improving overall as the season progresses.
"I am excited to see them improve individually so they have confidence in their skills and they can see their improvement in themselves," Hadley said.
As the season goes on, Hadley believes the younger players who are playing high school golf for the first time with learn and become better. Through practice and dedication this can happen, leading to placing well at region and making it to state.
For region golf, the coach chooses the top six players to play as the varsity team, then they take the top four scores as the team score. Scoring is different for girls golf, usually for boys or professional golf you want the lowest score, but for girls golf you want the most points. This is called the Stableford system, for example a par would be zero points, a birdie would be two points, eagle five point and so on.
Lucas would personally like to finish in top ten at region and then go on to qualify for state. Christensen would also like to improve, she mostly just wants to do better than she did the year before and is looking forward to help the girls who have not played.
Hadley loves the game of golf and hopes for nice, warm weather to come. She is looking forward to season and helping the new players learn to love the game. Lucas and Christensen are also looking forward to having a great season and being leaders to the younger girls.
"I would like to help then gain respect and appreciation for the sport," Hadley said.