NS recognizes the value of technology specialist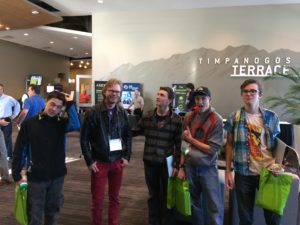 With the transition to the use of iPads at NS in the past two years, there have been difficulties, but thanks to technology specialist Enoch Brown, we have been able to stay afloat.
"Enoch keeps the school running," said Justin Morley, business teacher, "When Enoch is gone, it is very noticeable."
Brown has a hand in many things at NS–he co-teaches Cyber Corps, runs and manages the school website, and is in charge of technological help for the iPads, computers, projectors and other equipment in and around the school.
No one sees all that Brown does behind the scenes. He is constantly working to improve the technology at NS.
"[Enoch] has a lot on his plate, but still works very hard to take care of people's problems individually," Technology specialist Dax Higgins said.
Despite Brown's talent and love for his job, this is not what he originally planned on for his career. In high school, Brown was determined not to pursue any career that involved math or English. So naturally he became a teacher.
"After I [graduated from college], I started a business with my boss writing news," Brown said, "and you can't get more English [than] that."
Brown's career path strayed even farther than expected when he went back to school to become a teacher, but he applied for a different job originally than what he got. Even though he ended up in a different position than planned he does not regret teaching and assisting with technology at NS.
"This is the best job I've ever had," Brown said, "and I have no intention of leaving."
Brown loves working with youth, and he especially enjoys the students here at NS. The student body's appreciation and gratitude for the technology available does not go unnoticed by Brown.
"I absolutely love the students here," Brown said, "We have a great student body."
If Brown wasn't here, the school would struggle to run as smoothly, his know-how about his work and methods of assistance would be extremely difficult to replace. Brown's benefit to the school is undeniable.
Brown has committed almost as much to NS as he has to his family. He is the father of four; two girls and two boys. His wife Rachel shares Brown's interest in technology, and is studying to be a programmer at Snow College. Brown's family has their fair share of technical experience.
"I attend an annual tech conference," Brown said, "and every year it is like a family reunion, at least 4 members of my family are always there."
Brown's family of five has seen the world in an interesting way, Brown's family lived in New Zealand for 1 year back in 2012, when he had a job teaching there.
"If I could have the position I have now in New Zealand, I would go back in a heartbeat." Brown said.
Fortunately, New Zealand's loss is NS's gain.
"I have always felt like, if Enoch wasn't here, the school would implode," said Higgins.
With a school as dependent on technology as ours, Brown is very crucial. Although we don't always see what he does, we would notice if he didn't.
Friendly, honest and helpful are 3 words Brown would use to describe himself. It is needless to say that they are very accurate.
"You ask him to do something and it's as good as done." said Darin Johansen, business administrator for NS.