New online math program added to curriculum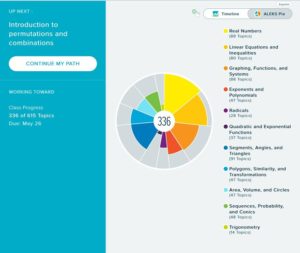 This year a new math program has been added to the curriculum alongside Mathematics Vision Project.
Aleks is a math program that helps students learn at their own pace. Students start by taking a knowledge test to determine their skill level, then Aleks decides what knowledge they are lacking and assigns topics to master.
From the first knowledge test Aleks creates a customized path for each individual student. This helps Aleks to find what your strengths and weaknesses are. Then students are given routine knowledge checks to improve the student's path. Because of this, Aleks is able to do what teachers cannot.
"You have a classroom full of thirty kids; you can't individually select what that kid needs to work on," said math teacher, John Sadler.
Not only does Aleks customize what students are learning, it also ensures that they know and fully understand the topic. It requires them to answer a certain number of questions correctly, and if they don't quite grasp the idea, it teaches them how to do it.
"It gives you a full, in-depth explanation," said senior Chloe Dyches. Dyches, along with 41% of the NS student body, thinks that Aleks is a useful tool to not only learn, but also understand, principles of math.
However, not everyone at NS thinks Aleks is a useful tool. In fact, nearly 30% of the students think that Aleks is useless, and another 30% of the 147 students that completed the survey were indecisive as to whether they thought it was a useful tool or not.
Included among those that do not like Aleks is sophomore Kendall Grasteit.
"It's super frustrating when you can't pass things," Grasteit said referring to the way Aleks works when you answer incorrectly. "Just when you feel like you have the subject down and need only one more problem to pass, but you make some stupid little mistake."
When an incorrect answer is given, you must complete more problems for that topic, even for simple errors.
While students feel that Aleks is frustrating, Sadler explains that students can come to the math teachers for help.
"If they're having troubles… and they're learning, and going through, and actually spending time with [those topics], they can come in and we'll work through it during flex," Sadler said.
In addition to doing Aleks, classes also have to complete modules from the Mathematics Vision Project book and test on those concepts.
This is difficult for some students because what they are learning on Aleks can completely differ from what they are learning as a class. For students who miss class, it is especially difficult to catch up to the class and complete Aleks at the same time.
"It is hard because I have other classes to catch up in, too," said sophomore Isabelle Johansen.
However, Sadler says using Aleks in addition to a book is no different than it has always been. When students miss class it is still their responsibility to make up any work they have missed.
Along with this, some people question why students are required to do both Aleks and the MVP modules. Sadler explains that the modules, and the tasks in the modules, are for students to learn how to problem solve. Aleks then refines those problem solving skills, and builds upon them.
Although some may think that Aleks is an annoyance, this is just the beginning of the use of Aleks at NS, and students and teachers alike hope to see improvements with Aleks in the future.