New Disney film is a fun watch for all ages
Zootopia is a new Disney film made by the directors who filmed Wreck-It Ralph, Tangled, and Big Hero 6. These three movies are three of my favorites. The directors Bryon Howard, Rich Moore, and Jared Bush did it again with Zootopia.
I highly recommend you go watch Zootopia. It is fun for kids and adults.
Zootopia features Judy Hops (Ginnifer Goodwin) and Nick Wilde (Jason Bateman). It also features Shakira as Gazelle singing "Try Everything."
Hops is a bunny who has big dreams to become a cop. She has been told since she was just a child that she can't be a cop. She is determined to prove herself. Wilde is a fox that has been a criminal since he was very young. He is caught by Hops but she can't prove anything. They are forced to work together to solve a missing persons case. It is a lot of fun to watch the relationship between Hops and Wilde grow.
Their relationship is a lot of fun to follow. Watching the cop and the criminal work together to solve the case is really brilliant.
Hops is determined to get the job done. Wilde tries to slow them down whenever he can. Eventually they form a close bond and work well together.
All of the actors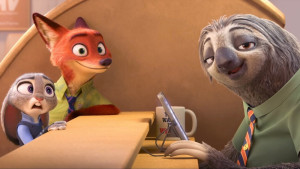 do a great job at being and voicing their specific animal. The character growth is also really great throughout the film.
The directors had a lot of fun putting in subtle subtle jokes.
The art directors also did a great job building Zootopia. Zootopia is the capital built of many different ecosystems. It is full of big animals and small animals.
They did an amazing job building the city in a way that all of the animals could live around each other.
The film is a really fun and enjoyable experience.
I loved the art, the music, and the way the characters interacted with each other. What I enjoyed the most is the humor in the movie. The characters were very entertaining.
Zootopia is a very clever movie and it was a lot of fun to watch.