Ed Staker – When I Was Your Age
Ed Staker-1968
    Ed Staker has taught at NS for forty years and is retiring at the end of t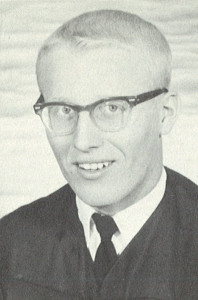 his year. Staker even taught people when he was in high school by his example in everything he did.
Staker played football, basketball, baseball, and tennis. He was self-taught in tennis and went to the State Championship for it. He was a lead in the school musical "Brigadoon" and sang in the choir. He was the Student Body Activity Agent. Staker also got great grades and spoke at graduation. He was motivated to do his best by his dad.  
"My dad said you will do this or else…" said Staker.
He then went to college considering Public Health, Pre-Dental, and Physical Therapy. He changed majors a few times and then graduated still not wanting to be a teacher yet.
He got a call one day and was asked to teach for a year. He decided he could suffer through anything for nine months and decided to experiment with teaching. He went back to college and began teaching.
Staker said in the past people didn't have to worry about terrorists or shooters.
"It wasn't a matter if you brought a gun to school, but which one," said Staker. He also believes we have lost the work ethic of the past. "We now come to school and say here I am, entertain me."
"People are still people and we all still have the same needs," said Staker. Back in young Staker's high school years people were not the only thing in the school.
They had pet snakes and ferrets in the school. The snake would often escape and set off the fire alarm. The ferret once got out and snuck through a hole in a cabinet. Unfortunately a teacher found the ferret's hiding spot.
"She screamed bloody murder," said Staker.